1 - 10145 Dallas Drive, Kamloops, BC V2C 6T4
---
---
BC Livestock Covid-19 Action Plan
*BC Livestock Producer's COVID-19 Update, August 2020*
We hope this will provide you with some clarity as to where we stand and the guidelines we have set into motion. We will continue to update you of any changes we make and do hope you will help us to stay within these guidelines for the safety and protection of yourself, our clients and our staff.
For more detailed information please see complete list of regulations below.
Thank you for your attention to this matter
CLICK HERE OR ON IMAGES TO VIEW PDF
*NEW*
BC Livestock now offers bill payments via online banking!
Most banks and credit union customers can pay their invoices through their banking app or site.
Please contact us for your account number to take advantage of this easier way to pay!
---
CLICK LINK BELOW FOR UPDATED SALES LISTINGS!!
https://www.bclivestock.bc.ca/livestock-sales
---
2020 - 2021 BC Livestock Calendar
Our 2020-2021 Calendars are here!!!
Calendars are available for pick up at your local yard!
We have posted an online copy of the 2020 - 2021 sale dates to keep everyone up to speed.
Click on HERE to view the dates online
Click on Image to download a PDF Copy
---
CLICK ON IMAGE TO DOWNLOAD PDF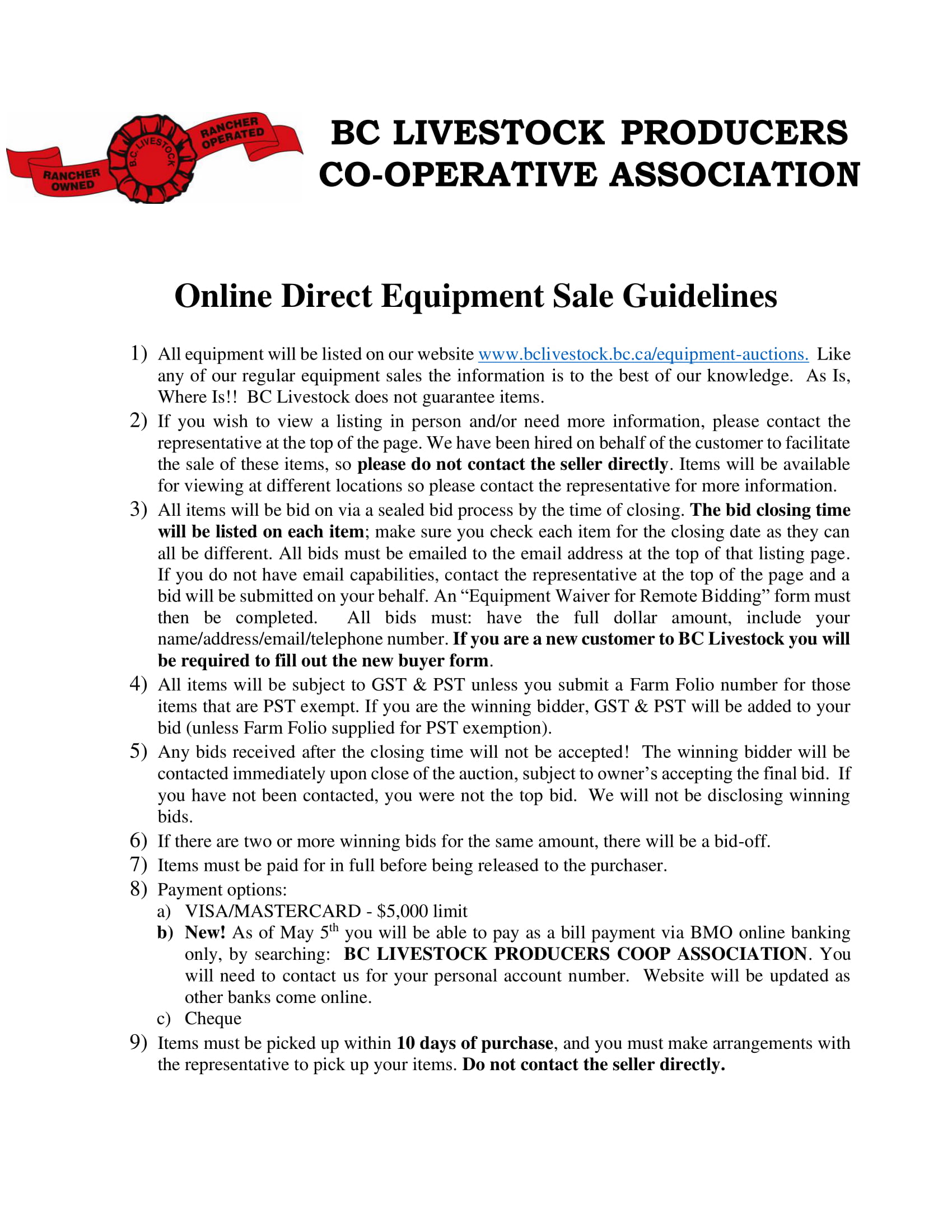 ---
*PLEASE NOTE*
AS OF MARCH, 2020
ALL OK FALLS REGULAR SALES WILL BE STARTING AT 10:00 am
---
---
**Notice to Producers**
Our team is always available to you and our Direct Sale option is just a call away!
---
---
Orwig Lick Tubs are now available at the Kamloops Stockyards!!!
We have OLS #18A Cattle Tubs ($150.00)
Come on down and get yours soon before they sell out!
---
---
To All Producers and Livestock Transporters
**IMPORTANT NOTICE**
**PLEASE CLICK HERE TO REVIEW THE CFIA HUMANE TRANSPORT & ANIMAL WELFARE REGULATIONS**
These rules and regulations MUST be followed for all livestock coming into any BC Livestock Yards
---
---
BC PREMISES ID# (PID)

KAMLOOPS: BC449KHAQ
WILLIAMS LAKE: BC449KDYT
VANDERHOOF: BC449KHVJ
OK FALLS: BC449KE93

---
Effective

January 1, 2017

, BC Livestock Producers Co-Operative Association will no longer accept "Contributor/Farm of Origin" CCIA tags for untagged animals arriving at our site. Due to numerous issues, any animal requiring a CCIA tag will be tagged with a BC Livestock issued tag, and charged for the tag and chute fee. This will be applicable at ALL BC livestock yards.
Rancher owned and rancher operated, BC Livestock operates four stockyards, located in
Kamloops, Williams Lake, Okanagan Falls and Vanderhoof.
Serving BC Since 1943.
about us, read more...